Interview with Mr.Takanori Fukuda
Takanori FUKUDA, born in January 1934 in Kochi, began to interact with Mr. Rin JUBISHI's group around 1960 and issue some Edgar Cayce-related books. After being independent, he learned therapy at International Acupuncture and Moxibustion Vocational School. He has presently regular lectures at his own "Fukuda Takanori Clinic" in Takadanobaba, Tokyo and at "Edgar Cayce Health Group" in Nagoya, being active to make use of Cayce's readings to our real lives.
Naoko MITSUDA(NM): We have known each other for 20 years, since joining the tour to Edgar Cayce's Association for Research and Enlightenment (ARE) in Virginia Beach organized by Tama Publishing in 1992. During the preparation of this interview, however, I noticed that I know nothing about your personal history. And so, could you tell me first about your childhood and the encounter with Cayce?
Takanori FUKUDA(TF): I'm going to introduce my age first. I'm becoming 80 years old soon, born in 1934. Second World War was over when being in my 6th grade. "The Miracle Person", the first Cayce book in Japan, was published in 1959 when I was 25.
Actually, the first introduction of Cayce was older than that book. Mr. Masaharu TANIGUCHI, the founder of Seicho-no-Ie (one of the well-known Japanese religious groups), issued many translations of religious books. His best-known translation is 20 volume of "Reality of Life", and after that the series of "Truth" were issued including "Cayce's Prophecy."
Seicho-no-Ie
Before encountering "Cayce's Prophecy", the end of Second World War was in my 6th grade and many soldiers came back to my high school. So I had many older classmates, and 3 or 4 year older Mr. Hattori was one of them. He was what was now called a nerd of spiritual world, fasting with no food and performing cold-water ablutions by a fall.
NM: Was Mr. Hattori also an ex-soldier?
TF: Yes, he was. But we had nothing to do right after the war, and had no vision for Japan's future. Since we had similar student number in our class, always being together with cleaning, other turns of duty and our way to and from school. That's why we talked so many things. Because we couldn't see our future and didn't know what to do in those days, he and I exchanged our life philosophy so passionately. I don't think high school kids of today discuss their life philosophy, but we did at the time because nobody could see the future.
After I came to Tokyo to work in a factory, he passed Hosei University and also moved up to Tokyo. Though being a minor, I drank every night like many people from Kochi. While drinking, we discussed what humans are, how the world would be, and what human lives are. In those days I was a materialist and believed that the world must be the concatenation of random chances. I was always a winner of the discussion.

NM: Really? Did you use to be a materialist?
TF: Yes, I did. I knew nothing about previous lives or so. On the other hand, Mr. Hattori was a spiritualist. He knew anything about spiritualism, such as the existence of previous lives. More importantly, one day he said drunkenly "humans can do nothing without will power. I saw the light from this word, and then started to visit religious groups from one to the next.
I used to live in Oyamadai, Setagaya back then and could see a catholic church on the top of the mountain in Denen-chofu. I opened loudly its big door and shouted, "Mr. preacher, I want to join here." Then he began to say, "I'm not a preacher, but a priest." And also told that I had to abandon your parents, children and even name in order to join here. I couldn't do it and finally found Seicho-no-Ie. Although I planed on belonging to Seicho-no-Ie in my whole life, encountered "Cayce's Prophecy" there and be impressed that this was what I looked for.

NM: How many pages did that "Cayce's Prophecy" have? The whole book wasn't about Cayce, was it?
TF: There were 10 or less series of books entitled "Truth", and "Cayce's Prophecy" was only a small part of its "Spiritual World" chapter. In addition to Cayce's readings, it had the sentences about human's afterworld. It was the first introduction of Cayce's readings to Japan.
NM: It was Seicho-no-Ie to introduce Cayce's readings to Japan for the first time. And young Fukuda there were caught up in them…
TF: Yes, so much. I was overwhelmingly attracted. I always became the top of any groups. In other word, anyone said " if you don't know Fukuda, aren't the member here." I was so active at Seicho-no-Ie as being said so. But I left there after reading "Cayce's Prophecy." After that I met Mr. Jubishi.
Despite I didn't know Mr. Jubishi also belonged to Seicho-no-Ie, found the book titled "AZ" at one of used bookstores in Kanda. It was issued by AZ Company founded by him, and I visited there straight away to see the person introducing Cayce.
Though I was responsible as a technical staff at a big company then, decided to quit that job and asked Mr. Jubishi to work at AZ Company. It was the time when "The Miracle Person" was published from Kasumigaseki Shobo. Cayce's "The Window Has Opened", the first print of "The Secret of Reincarnation" from Tama Publishing, was also published from Info co. in 1961(the original English title is "Many Mansions"). The publication of Cayce's books was concentrated around that time.
Being familiar with Cayce back then, I had started Cayce-related activities when his books were published. Along with Mr. Jubishi, I was the Japan's first activist of Cayce. Mr. Jubishi had already introduced Cayce, and went to the US at the time.
And now, have you ever met Mr. Jubishi, Naoko?
NM: Yes, I have. I went Nara to meet him in Nara several years before he passed away. Since Mr. Jubishi was a legend for me, I mistakenly assumed he had passed away a long time ago. Right after learning that he was alive, I visited him. I heard that his life caused troubles and upheavals, but the rest of his life looked so calm. Though he quit the work of translation due to bad eyes, I remember that there was a bulky English dictionary.

When you met Mr. Jubishi, what kind of activities did he do specifically?
TF: He earnestly tried to spread Cayce in Japan such as translating Cayce-related books. This is just an aside, but Mr. Jubishi was also eager to spread Saibaba and translated some books. Saibaba consequently began to be known in Japan.
NM: Mr. Jubishi had a keen sense. He also belonged to Subud, didn't he?
TF: I used to be enthusiastic for Subud, too. Anyone there said " if you don't know Fukuda, aren't the member here." It was in my youth, so I was the head of youth group. When Gina Cerminara, the author of "Many Mansions", came over to Japan in 1962, I always stayed with her to help.
NM: I have seen her photo along with Mr. Akihiro MIWA (Japanese popular singer and actor).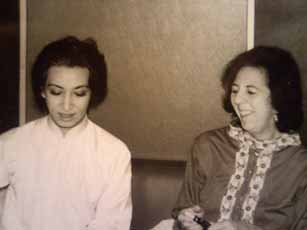 TF: It was the photo of her second visit. Mr. Nirasawa, the president of Tama Publishing, took care of her then.
Mr. Jubishi and Info co. invited Gina to Japan for the first time. Mr. Hamazaki, the president of Info co., was also knuckling down to bring out the information of spiritual world. He asked a certain translator to translate "Many Mansions" to Japanese.
NM: I recall that Ms. Ei Taga, the translator of "Many Mansions", passed away soon after the book was published. Around 1961, you were about 27 years old. How many peers did you have to talk about Cayce in those days?
TF: I remember approximately 10 people, mainly in several religious groups such as Subud, and a meditation group organized by Mr. Jubishi. When I went to Kyoto to guide Gina, other 10 people gathered at night. They probably read newsletters of Seicho-no-Ie and got interested in Cayce.
Because I had strong connections to Seicho-no-Ie, Gina had a large-scaled lecture meeting at a huge hall there. She delightedly had a speech about reincarnation.

NM: How was the response of the audience?
TF: Gina was bombarded with questions from crowds one after another.
At first, I tried to publish the books of Cayce on my own. So I wrote to Mr. Hugh Lynn Cayce, the President of ARE of the day, and declared that I would campaign for Cayce in Japan. But he responded me to tell, "you are still young, so please learn more." For this reason, I learned more and more about Cayce. And then I contacted with Mr. Uritani, the President of Tama Publishing at the time. He already knew that I was so much committed to Cayce, and planed my lecture. He and his wife listened to that and suggested me to write a book. It is the book titled "Healing Arts Changing Your Life" in 1984.
NM: Oh, you jumped straight to 1984. What were you doing in 1970's?
TF: I was going ham at Subud in 1970's, and so as Mr. Jubishi. I quit AZ Company then and was busy for auto-related job. But I wanted to focus on Cayce, left Subud after all. Actually, there are many other things that I used to do my utmost but eventually quit.
NM: You found your way to Cayce as a final standard.
TF: Yes, I did. What are humans and how to live had been my questions since I was a high school kid, and kept pursing in a constant way. I left Seicho-no-Ie after encountering Cayce, met Mr. Jubishi and quit his company. I also had the experience running away from home twice, so like to flit around.
On top of that, when being consulted on many matters at lectures and others, I witnessed that castor oil pack cured various illness.
NM: You have already started up your clinic at that day.
TF: I enrolled in a healing school when I was 39. Because I don't have any academic qualification, a school of acupuncture and moxibustion was that I could only enter. It took two years to get a certificate. Nine years later from then, "Healing Arts Changing Your Life" was published. This book became a hit. Employees of Tama publishing sometimes visit my clinic even now to say "I wanted to meet the author of the book."
NM: It is still sold pretty many. Our company also recommends the most as an introductory book.
TF: As readers know, I wrote that book not focusing on physical things, but highlighting spirituality. It is my way of life that there is caster oil pack, oil massages and diet treatments in spirituality.
NM: What was your turning point to get a certificate and to make a living as a therapist?
TF: There is a bit of a story. I really like writing and wrote a great deal about Cayce, but had no prospect for publication. In those days I haven't met Mr. Uritani yet, and recognized that it is hard-pressed for money to publish a book. One day, I went skiing with my friends to deep in the mountains. We had nothing there but several feet of snow. I deeply reflected, and the realization came to me. Cayce's readings tell healing arts a lot. I only looked "what humans are" before that, and hadn't done searches in that field at all.
NM: It means that you hadn't been interested in medical readings before that, doesn't it?
TF: Yes, it does. But I realized it at that moment. It darkened early in the ski area back then. I didn't have anything to do until morning. During taking a bath, I smacked my knee. But I didn't know how to get a certificate, made a call to the Ministry of Health, Labor and Welfare of today after coming back home. He said that I didn't have any academic qualification; there were only two schools that I could enter. One was in Tokyo, and another was in Kagoshima. I flied to Kagoshima right away, but that school hadn't decided whether recruiting beginning students or not. Therefore, I didn't have other choices and entered a school in Tokyo. Two years later when finished school, I soon started Cayce's healing arts for real. I had been doing all about Cayce before that, so only focused on Cayce's from the beginning.
To Part2
by legacyofcayce | 2014-10-26 14:00 | Interview