Interview with Mr.Hiroyuki Aoki (Part6)

From Part 5
NM:
In English, Budo is called "martial arts", but what does the word "martial" mean?
HA:
It means "military", or "soldier". Hence, Budo is a military art.
NM:
Then, what does "Bu武" of "Budo武道" mean?
HA:
The "戈" character within "武" symbolizes a spear or a halberd. A halberd has another blade sticking out of the side of the spear to stab or strike the enemy. The origin of the word "武" means "to stop the spear, to stop the halberd". From a broader perspective it means, "to rid of hatred against the enemy, be free of resentment, and fill our hearts with love." Then, the secret of martial arts deriving from "to stop the halberd" is to wipe away all halberd-like intentions within us, desire to beat the enemy, as well as the enemy's desire to knock us down. Love has the power to stop the halberd, and this is why Ueshiba Morihei Sensei taught, "Bu is Love."
However, generally, the character "武" means to block the enemy's attack and to counterattack.
NM:
And in terms of Shintaido, Shintaido is "武" and at the same time, aims to free and liberate ourselves….
HA:
Yes, I started seeing a new vision like that. 50 years ago, not many people insisted on "relaxing, releasing our Ki, harmonizing with nature, fully liberating ourselves, and becoming as free as possible". At the time, many people laughed at me and put me down, but now, many people are saying these things.
The president of a famous company that specializes in DVD productions of martial arts and other fighting techniques once told me this laughing, "40 years ago, I thought you are a very interesting person with unique opinions, and no one else said anything like you. But nowadays, what you mentioned back then have become so common." I think my thoughts have become more prevalent in the Japanese martial arts world. I'm sure that many people who teach the same things don't even realize that those are what I first started teaching. In fact, words and phrases like "Reading Ki (or brain wave)" and "Toate (Distance attack)" were all started by me too.
NM:
Liberating ourselves and freeing our individualities are both the main purposes of practicing Shintaido, but can you tell me what can be attained by achieving those states? Edgar Cacey mentions about surrendering self before God (Lose self in Him). This "in Him" part is the most important, but is it something similar?
HA: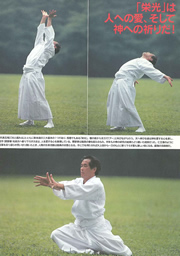 Yes, it's exactly the same. In Christian, it means to accept God 100%. In Zen, it means to get rid of all attachments. We often say that the more we release, the more we become full. If we could let go of our selfishness and egoistic thoughts, biases, and pride, the vibration of the universe and the great life force of nature will flow into us automatically.
Whenever I think about what God is, I think there is nothing more to say than that it is the life force of the universe that fills the entire Heavens and Earth. And what controls it, or the energy that controls it, is God. It has will and a certain direction, but as Dr.Laszlo I mentioned earlier also states, it is already proven in the world of quantum physics.
In the history of humankind, a significant figure sometimes appears to save humanity, and such typical figure is Edgar Cacey. I think Cacey was also no different from other ordinary people in his everyday life. I can see that just by looking at his face. He doesn't look like a courageous hero type of person showing off God's power to humankind. He looks like another Christian person of good will, just like other devoted Christians. However, once he shifts his channel and tunes his antenna into the spiritual world, he was able to receive messages from God and vibrations of the universe. That was his innate talent, so it's not him that was great, but it was the spirit of God and the vibration of the great universe that was great.
NM:
Did you first find out about Cacey when you were still a Christian? Or when you were close to Mr. Uritani, former president of Tama publishing company?
HA:
In my late 30s, I read Bhagwan Shree Rajneesh's book, and felt we have very much in common. But at that time, I was still a very serious Christian, and a part of me still could not accept other religions besides Christianity. I think I found out about Cacey after I became friends with Mr. Uritani, so I guess I was in my 40s. As Gina Serminara writes in great detail, I read the book "The Miracle Man Edgar Cacey" before that and was deeply impressed by the existence of such a great figure.
In the book, it introduced cases of a mentally ill person recovering from his symptoms by taking out his wisdom teeth since the sole cause was nerve compression, or about eating almonds everyday, and boosting your immunity by placing raw rabbit leather on the stomach, and they were interesting. I heard that Cacey was ridiculed by intellects when he was alive, but in modern medicine, these things are considered effective, isn't it?
I think these people like Cacey are born every once in a hundred years or so to save the world.
NM:
I know you also have lots of mystical experiences like this though. For example, you received teachings in your dreams many times from a martial arts master you had only met twice in your life, or a dwarf appeared in your dream and started practicing martial arts, so you took notes and created a set of Kata, and etc….
HA:
Actually, that wasn't a dwarf, but I was just dazing, and then I had an illusion of somebody carrying Bo (6 foot staff) coming to attack me. But the next moment, somebody else popped out of my body and threw that person down using techniques I had never seen before….
NM:
That was somebody from your illusionary world, not a reality, right?
HA:
Yes, it was just an illusion, but it was so visible to me. Those techniques were totally new even to a person like me, who knew most of the existing throwing techniques using Bo from all over the world. I thought, "I must record this" and drew illustrations of 75 kinds of Bo throwing techniques in a few weeks. I then started teaching them to my students, but 25 of them were too difficult, so I designated the remaining 50 kinds as official Shintaido Bojutsu techniques, and many of them are still practicing them today. So those techniques weren't exactly my creation but what God presented to me spiritually.
Therefore, strictly speaking, I'm not the Founder, but an introducer of techniques I was shown by something great. I go by the name of Founder since it's too complicated to explain each time, but to be honest, I never considered myself a Founder.
NM:
I believe God transmitted those techniques to you from the universe since He knew you could understand them. Your story of being taught in your dreams is very interesting too.
HA:
That must be about the story of Inoue Hoken Sensei. Inoue Sensei was my master's master, but I had never learned directly from him before. In fact, I only met him in person twice in my life. The first time was when I was 25, and I visited a big dojo near Harajuku station where he used to teach.
His students trying to attack him would be knocked down, just by Sensei walking across the dojo diagonally. It looked like magic. I was shocked and awed by his presence. I told one of my seniors, "Wow, he's amazing. It looks like he's using superhuman techniques", and he replied, "not really, I'm sure your students will also think the same way at you too. It's just about your level. If you get a little more used to it, you will be able to see the various techniques he is using".
I practiced hard for many years later, so little by little, I was able to understand what Inoue Sensei was doing at the time when it seemed like everyone was just being blown by him.
However, Inoue Sensei is a real great master and I'm saying this not because I'm a student of his student.
And his uncle Ueshiba Morihei is also a great master. To our eyes, what Inoue Hoken Sensei and Ueshiba Morihei Sensei did might seem very similar, but for them, they would insist they are totally different, and that's inevitable because the very person that did that would know the exact differences. Although it might take a very similar physical form, it could be different philosophically. Either way, in the world of Budo, Inoue Sensei and Ueshiba Sensei are both categorized in the same Aiki Jutsu system of practice.
Using philosophy as a metaphor, the works of 100 philosophers are all called philosophy, but each philosopher has their own philosophies respectively. It goes the same with musicians and painters. In this sense, the two of them are the same and yet different. It's similar to the differences between classical painters and impressionists in visual arts. There is the Bujutsu category within body practice, and open-handed fighting techniques and Taijutsu within the Bujutsu category, and both of them were teaching Aiki Jutsu within that category. Thus, to the general public, it would certainly be regarded as something very similar.
Lately, I have been using the katana a lot through Iai-Battojutsu (Kenbu Tenshin Ryu) practice, since the katana teaches me a great deal of things. Nonetheless, the basic movements are all the same in Shintaido, Aikijutsu, Bojutsu, and present Kenjutsu.
To Part 7
by legacyofcayce | 2015-01-10 12:06