Interview with Mr.Hiroyuki Aoki (Part7)

From Part 6
NM:
Did Inoue Sensei appear in your dreams often to teach you techniques?
HA:
Whenever I was meditating, he often appeared and told me "That's right." Or "You should do it this way." At that time, I was practicing under Egami Sensei's instructions almost everyday, but in my meditations, Inoue Sensei would appear.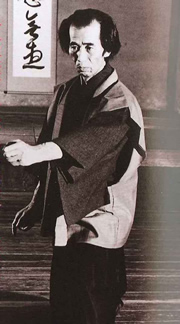 There is a hilly park called Nogeyama Koen close to my house, and I would go there alone to practice in the middle of the night and stand under the tree in the Seigan posture with my Bokuto. How I did this was, I would take a position holding my Bokuto straight in front of me leveling the tip of the blade with my eyes and looking far ahead, for example 1 or 2 kilometers far into the distant city lights for about an hour, without moving at all. Then one day during this practice, I called Inoue Sensei to come teach me (in my illusion). Then, he really appeared. As I learned from him, he started saying he would introduce me to a better master, and then the next moment, Egami Sensei appeared. In other words, he was telling me that I should continue learning with Egami Sensei wholeheartedly and that I'm on the right track, encouraging me to pursue my practice even further.
This is another more recent story.
Last February (2013), I came out of the world of Mu. My master is 100% Egami Sensei, and everything is really thanks to this great master of mine. My feeling toward Egami Sensei is similar to my feeling toward my father, and I loved him deeply back then and still admire him today. Egami Sensei also took great care of me and cherished me. It was really like a son and father relationship, and I still feel the same way. All the foundations necessary for me to exist here today as a martial artist was laid by Egami Sensei. However, I never idolatrized him, and I hope you don't misunderstand this part. Why? It's because I was a devoted Christian and had also studied philosophy and Western literature very deeply back then, so I didn't fall into worshiping or idolatrizing people. I understood that my master was also a father and a weak human being.
More than a disciple, my relationship to Egami Sensei was more of a visitor from another school that came for accommodation and food, and received the honor to learn from Sensei for a while. But I really studied the best I can under him and Egami Sensei highly appreciated me. Egami Sensei's students told me I betrayed Egami Sensei, but in this sense, I had betrayed him from the very beginning. Egami Sensei himself always told me, "You are not my student. You came from elsewhere, and you will leave here again after learning under me". He also often mentioned, "If my name were to be known in the future, that would be thanks to you".
What was amazing about Egami Sensei was that he openly showed his weakness to me. He wasn't ashamed to show me all his aspects— weeping, feeling down, everything. He was great in that way.
Since I had a love for literature and studied Western literature and various kinds of philosophy in great depth after I graduated from high school, I didn't worship anyone. I wouldn't worship any kind of human figure. I read works by Tolstoy, Dostoevsky, Shakespeare, Dickens, Romain Rolland, and so forth, so no matter how arrogantly somebody preached something, I could read their minds easily. Even what Sensei said.
And because I also studied philosophy, I was able to compare Sensei's philosophy to other ones I already knew, and had no problem understanding it without much effort. So I am not a worshiper of Egami Sensei. To me, Egami Sensei was like a father that let me seek greater techniques with all my might. Even if you respect your father, you wouldn't also conclude that your father is the smartest and most talented person in the whole wide world, right? Similarly, Egami Sensei was that kind of father to me and that is why I still respect him today. He was the master of my Michi (Do, Tao, Way) and had nothing to do with politics.
I want to share this interesting story with you. Whenever I go through major transitions or have significant realizations in my practice, I go visit Egami Sensei's grave. Sensei loved whiskey, but back then, he was poor and could only drink cheap bottled Suntory whiskey. He liked whiskey so much that he would shake an empty bottle again and again after it was all empty. I visited his grave with a bottle of whiskey when I started Kenbu Tenshin Ryu too, and also about 4-5 years ago when I had a big Satori.
I also went to Kamakurayama to report to my master first when I came out of the Mu world after 45 years, which was like attaining the "Henpongengen (Reaching the Source)" stage of the Ten Ox Herding Pictures. I brought a full bottle of French brandy XO and poured the whole thing around his gravestone. Then all of a sudden, smoke rose from the gravestone. First, I thought the brandy evaporated because the stone was heated by winter sunlight, but I saw it rising from the center of the gravestone to my left hand. Then, a figure appeared from the smoke. I thought, "Oh, it must be Sensei's spirit!". But it wasn't. It was myself. It was me who came out of the smoke.
After that, Sensei's smiling face appeared to my upper left and said, "Aoki, you treated me so kindly until today. Of course, I also know you sometimes spoke ill of me behind my back." He continued, "You think I taught you many things, right? But actually it wasn't me who taught you. It was yourself. You were learning from youself…"
I was shocked. He then said, "You believed you had always learned from Egami and Inoue, but in fact, you were learning from yourself. This means that if you curse at me, you are also cursing at yourself, which means you are the one that's bad". He laughed hard, and then faded out gradually.
I was so touched. Again, I was amazed at how great my Sensei is. He is truly brilliant. I thought to myself he was such a wonderful teacher and I will never be able to go beyond him.
*"Henpongengen" (Reaching the Source):The ninth picture of the "Ten Ox Herding Pictures". It symbolizes return to the original beauty of nature. Satori lies in this kind of nature.
NM:
I could see that Egami Sensei is still looking after you. And maybe you come into your students' dreams and meditations to teach them secretly too.
HA:
I actually think you're right. Maybe they're having nightmares (LOL)
There are so many important principles in martial arts, and one of them is that we can live life while being fully surrendered to death. We can also go beyond life and death, and even die for others anytime with love. Furthermore, our bodies can become natural once again. All of us are born 100% natural. However, although our bodies are still natural, our consciousness makes our bodies unnatural. This is why we want to release those parts.
We have to reawaken our bodies that have become unnatural over 20, 30, or 50 years, so that it regains its natural state that it once was and become one with nature. I call those parts that stop us from being one with nature "stiffness", and "stiffness" equals ego.
When Christians accept Christ, if they are covered with sins all over their bodies, they will not be able to receive Christ 100%. This is a word by the Dominican, Meister Eckhart. If there are pebbles and stones in the bucket, you cannot pour all the water into it. We shouldn't be carrying sins or even faith, love, devotion, prayers, obedience, or a single pebble in our hearts. We must be totally Mu (nothingness). There shouldn't even be space for love. Then, the spirit of God will pour into us 100%. This is what Eckhart says, and I am very impressed by his words. I think they're very important.
*
Meister Eckhart
These are the teachings we can receive from martial arts, Shintaido, and Kenbu. I used the name "Shintaido" years ago, but now I also call it "Tenshintaido" and "Kenbu Tenshin Ryu". I think names could change and disappear as long as it fulfills its mission to support, encourage, and give happiness to those who love and practice them. So now I use "Tenshintaido" and "Kenbu Tenshin Ryu" more often, but I am not attached to names at all. Even Christ didn't say that the name of his teachings is called Christianity, and Buddha didn't say his teachings are called Buddhism either. So names really don't matter. We could just call it Aoki's body practice.
NM:
Can I go back to your story about "Mu"? I wanted to know a little more about that. How does it feel like to be in Mu? Is it like you're apathetic and don't feel anything even if you're looking at a beautiful view, or you're not moved at all by an amazing painting? Like your emotions are flat?
HA:
It's actually not like that. All existence disappears in your consciousness, and an infinite abyss spreads. Everything loses value too… Like you are left alone in the great darkness of vacuum space. And at the same time, it's also a formidable liberation.
NM:
Even during that time, you were still teaching your students Shintaido, meeting people, communicating with people, giving lectures, traveling, and so forth, right?
HA:
In that way, yes, I was still leading an ordinary life.
NM:
I've experienced a couple times in my life where every morning when I woke up I felt, "Oh, I woke up again and I'm still alive today" and couldn't help myself from feeling sad that I'm alive. Is yours similar to this?
HA:
Well, everything was still normal and nothing had really changed, but I just became completely vacuum, like living in the world of Mu. Even feelings and attitudes like love, faith, contemplating on how to live, or being sincere, were all gone.
There are so many things in life, right? Let's say that God is at the very top of it. And God is said to be Light. According to Kabbala that has several thousand years of history, Light is "Being". Because Being and Non-Being are one, this Being presupposes Non-Being. And behind this Non-Being is "Absolute Nothingness". And there's nothing behind Absolute Nothingness, because it's literally just Absolute Nothingness. This is the ultimate state.
So even if we attain Absolute Nothingness, there is everything there. This, that, and you exist too…. They are all there, and yet it's Mu. I'm sure it's pretty hard to understand unless you experience it yourself.
NM:
Even if you're amid Mu, are you still aware that you're there in Mu, or can you only realize it once you come out of it and think, "Oh, that must have been Mu"?
HA:
When I entered Mu, I was totally aware of it. I felt, "Oh, I've entered a profound state." In fact to be more precise, it's more accurate to say, "coming out into the Mu world" than "entering Mu".
NM:
In my case, one day the whole world turned gray, and little by little, it started obtaining colors again. Is this somewhat similar to your experience?
HA:
Maybe it's a little similar to that. To explain in one word, it's a universal eternal abyss of void. And you are floating there alone all by yourself. As if you're idling in a dusky deserted landscape all alone. The deserted landscape had always been there in front of me for 45 years…
NM:
Did God exist there too?
HA:
The Christian world shining with bright light and love had completely disappeared. Even God was not there. I was the only one left in the eternal void, the Absolute Mu universe.
NM:
Even so, there still is joy in everyday life, and you could see light during practices, right? I'm sure you also still felt a sense of achievement too. So does it mean that glimpses of light and joy still do exist, but in a broader sense, you were in darkness and Mu?
HA:
Yes, that's right. In the world of Muso (no-form, formless). It's more about your sense of values and understanding of the world.
NM:
Did something significant happen when you came out of that state?
HA:
Oh yes, of course. Something great happened. But if I went on to explain it, this article would be long like crazy (LOL).
Last February (2013), I went to Manza highlands in Gunma prefecture. I was staying at a hotel with nice hot springs on top of the mountain, and below were many 5,10 meter high hills all covered with snow. I was looking down at those hills from about 100 meters above.
All my life, I had the aspiration to reach the other side of the snow-covered Himalayas like a wind, or reach the other side of the icy Andes to open up a new world. But in reality, we can't even climb a 5 or 10 meter high hill by foot if it was covered with 2 meters of snow. How small are we. Then I said to myself, from now on I won't try to climb the huge Himalayas or Andes, but will do my best to climb over these 5 or 10 meter high hills with 2,3 meters of snow, with all my might. While I was pondering this as I watched the snow, something inside me started to change very softly. Gently and gently, something started to shift.
NM:
Was it like the fog clearing up before you?
HA:
In fact, there wasn't even a fog because it was all Mu. I was in Mu where there was nothing, but the next moment I realized, I was embraced by millions of flowers—cherry, peach, and plum blossoms, all in full bloom. Above, below, right, and left—all filled with yellow flowers. It was purely yellow, no pink or red. I was astonished. It smelled so good, and my whole body started to smell good too.
NM:
That must have been like paradise.
HA:
Yes, exactly. And the full-bloomed flowers and breathtaking scent lasted for several months. Now, it doesn't smell as strong, but it's not gone. I'm still in that world. Because I thought the world of Mu is the final source all practitioners seeking the Michi (Do, Tao, Way) return to, first I didn't know what was going on. I thought to myself, this is unbelievable… But in fact, it was depicted in the Ten Ox Herding Pictures. Normally, we would think Satori or Mu world to be the ultimate stage, but Kakuan, a Zen monk that lived a thousand years ago had already realized that there is still another stage beyond that. I was so impressed such a great monk existed back then.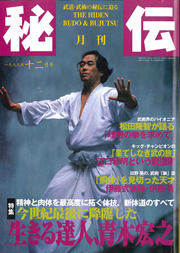 So since then, I became a person not in the Mu world, but in the flower world. I decided to commit myself to mingling with the people and sharing who I am and all I have realized, instead of renouncing the world.
Before, I used to go on TV or magazines very often. But I wanted to stop that, and in nearly 20 years, I felt a strong urge inside me to really mingle with the common people, business men, or aunties and grandmas—with ordinary people, as I hadn't really done that for a long time…
To Part 8
by legacyofcayce | 2015-01-10 12:12 | Interview