Temple Beautiful Mail Magazine No.446 (2012.6.29)
In Japan, we talk about foods being Ying and Yang.
However, Edgar Cacye talks about food being alkaline or the acidic balance of food.
The meals that Edgar Cayce says is ideal is one that is 80% alkaline and 20% acidic. This means that around 80% of our food should be vegetables and fruits. And in particular green leafy vegetables are important. In Chinese medicine, following the Ying and Yang balance, raw vegetables and fruits are Ying food, and they say we should not eat too much of this, because it is too Ying.
However, according the Cayce remedies, these foods are very important for keeping the body alkaline, and we should eat a lot of them, especially at lunch.
Edgar Cayce says that bacteria and viruses cannot increase or spread in a body that is in an alkaline state. So if we come into contact with someone who has flu for example, we needn't worry, so long as we keep our body in an alkaline state. Edgar Cayce also said that cancer patients should eat a lot of alkaline food in each meal each day. If our blood pH level is alkaline, then the percent of oxygen in the blood is also very high. Also, we can eliminate contaminants in the blood more easily if the blood is in an alkaline state. The proteolytic enzyme work more effectively in alkaline blood. So if you are suffering from poor health, Cayce recommends that you eat more raw food, and bring your body back to an alkaline state.
In summary;
1. As long as our body is in an alkaline state, viruses cannot increase within our body.
2. Our cells stay healthy, and can regenerate more smoothly.
3. Contaminants and waste products are eliminated from the body more
effectively.
Recently, I met someone who was caring for someone who had a stroke. Her husband had a stroke and couldn't move, and she was taking care of him. She told me that at his first his oxygen concentration in the blood was 84%, but every day she made a lot of vegetable juice for him. He drinks fresh vegetable juice every day. And his oxygen concentration in his blood is now in the high nineties, and close to 100%. She said she was so surprised by the power of this raw vegetable juice and her husband's condition has really improved.
I believe that even if you only eat fresh fruit and vegetables once a week, you will see a small improvements in your health. Furthermore if you eat fresh fruit and vegetables once a day, you will see an even greater improvement in your health.
People often tell me that they don't eat fresh fruit and raw vegetables every day, especially in winter.
I have good news! Our body makes acid not just from food. Our body makes acid from negative emotions, such as anger, stress, frustration and so on. These emotions cause our body to create an acidic state. And if we eat too fast, or
if we are constipated, we also will find that our body is in a more acidic state.
On the other hand, laughter, joy, and gratitude create the opposite effect and make our body more alkaline.
In the past, I did some experiments.
We licked some litmus paper, to make sure our body was in an acidic state. Then we laughed a lot, and then we licked the litmus paper again, and the result showed us that our body had turned alkaline. This was the result of just a few minutes of laughter!
In other words, even if you are eating an alkaline diet, but each day you are experiencing negative emotions such as anger, regret and stress, then your body will return to an acidic state. However, if you eat a lot of acidic food, but live a happy, joyful life and laugh a lot, your body will be in an alkaline state.
A long time ago, I read a book by Norman Cousins, An Anatomy of Illness, and in it he talked about how he could cure his disease by laughing a lot. I believe he was able to cure himself because he could strengthen his immune system and because he was able to turn his blood pH level to alkaline because he was always laughing.
We are humans, and living each day can bring stress and negativity. It is hard to live each day in a state of joy and happiness, and this is why I believe we need to eat more alkaline foods, but not only that, we must laugh often, as laughter is very important! If you are able to find the humor even in a negative situation, then you will be able to keep your blood in an alkaline state more easily.
I believe that this kind of lifestyle, eating alkaline foods and being joyful and laughing often, can lead to a positive spiral, and improvements in our health. Summer time is a good season to eat more raw food and fruits.
So let's try eating more raw foods and laughing more in our daily life. This is the secret to keeping our bodies healthy!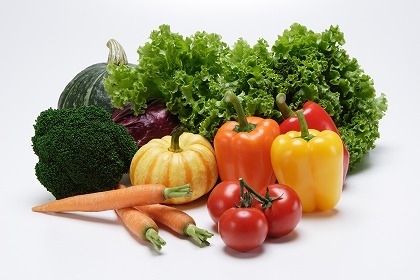 ▲ by legacyofcayce | 2012-08-11 10:57 | Mail Magazin BackNo.