Mark: And there are many reasons why I think the Japanese have this tendency. I think that part is the consumer-oriented society, and there's an almost a national appreciation for the richness of the past and tradition which extends then into appreciating what we had in our life experience in the past. But I hear so many people describe "my precious memories" or "my happy memories", and the unfortunate byproduct of this is that they hold onto these things and pictures, to maintain those happy memories but as a result, they then don't create more happy memories by having more fun now and in the future in their lives.
So there are starts to be a time when those happy memories override having a happy now. So that's one of the big challenges that they're facing, the Japanese population right now, is "How do I have an appropriate relationship with the past?" and actually appreciate and have an exciting time, an interesting time, in the present moment and in the future. And this relates both in the short-term in terms of my life and the events of my life, and also relates to culturally and traditionally how much, how do we respect the traditions and the past and then decide, "I may not want to follow all of the traditions of my culture, or recognize that maybe some of the traditions don't really match my present life style."
One of them being a more sensitive topic of the fact that children will often sleep in their parents' beds until quite a late age. Japan is the only country really where you're going to find that children will sleep with their parents until maybe the age of 10 or after that. There is no other industrialized country in the G8 or any of the major world powered countries where that is part of their culture.
Historically, it absolutely made sense when people were living in their homes which were very cold, with very poor insulation, and really with a very small space - it absolutely made sense that everybody's going to sleep in that kind of environment. In a modern house, it doesn't make sense. To do it just because it was done in the past, I think it's really useful to always question, "Is this serving me?" as opposed to "Do I follow the traditions of the past because this is how it's always been done?"
Where I think on the other hand we could look at the fact in the West, maybe parents sort of don't bond or connect enough with their children so they let their children sleep separately at their young age. And maybe there's a negative consequence from that as well. So I'm not going to say that the Western way is automatically where one should go. I think, like the most of the time, we should really look at different approaches then decide, you know, what kind of synthesis or fusion can we implement? It takes richness from two different approaches to see how it can really give you something in a new way.
But my concern got raised when I had clients who said that they're having a divorce and they're wanting to have a new intimate relationship, to get a boyfriend or something, and yet the child is supposed to be sleeping in their bed. And I thought, you know, if we really think about this logically, there's obviously something seriously not in the best interests of everybody here. It's not in the best interests of the boyfriend, it's not in the best interests of the mother, and it's certainly not in the best interests of the child.
We need to then recognize that. And I had my clients realize "Oh, wow. Actually, what you said does make sense. That's not going to be a good situation for everybody". And I'm very sensitive to the fact that I don't want to tell anybody that there's anything "wrong" with their culture. It's simply the matter of, if you want certain results, you want a certain experience, then we need to look at what we're doing and realize, you know, "Is this going to create the result that I want or not?" And if not, then we get to make a choice.
So I think some of the cultural tendencies and the fact that the Japanese really respect the past and respect their history so much, and in a sense do so without questioning or without thinking about it, I think that can sometimes cause… at the same time it causes something, creates something really quite wonderful in Japan, but also create some challenges.
I love the fact that everybody in Japan has something shared, in the way that, you know, when everybody comes home they'll say "tadaima" and somebody will say "okaerinasai". That is beautiful. Everybody in the country shares a way of recognizing certain aspects of daily life. I think that's amazing and that's something that is lacking in a lot of countries and I think there's a lot of disconnection between people in other cultures as a result of that.
And, sometimes the lack of having an individual way of doing things also has other consequences, in Japanese culture. Where people then don't seem to find their way. Even though everybody has those sort of expressions like 'my pace', 'my rules', my things, they actually don't "do" things 'my way' a lot of the time. They do things according to the way it's expected of them. And so my hope is that, I think the Japanese are really in a position to be able to take so much richness from their history and their really unique way of looking at the world with a very big picture way, and start to incorporate things learned from other cultures but applying it really in their way, as opposed to doing it in the other culture's way.
I think you know, to be consumerists like North Americans, when they are living in Japanese-style homes, it doesn't make sense. And I think a lot of habits, unfortunately, the Japanese have picked up, actually come from the American lifestyle, and things that they learned after the war from American culture, and wanting to be like the Americans. And it doesn't work. So actually I'd love to see the Japanese be more Japanese in a way, and Americans be more Americans. And also I'd like to see North Americans and Canadians be more like Japanese. And Japanese be more like Americans in a way that's really taking the best of all the cultures as opposed to taking some of the negative aspects of the other cultures. Does this answer the question?

Q:I'd like to mention about the way of positioning a bed. The first time when you told me not to put my single bed against the wall, I couldn't understand why. I've never thought of keeping the both sides of the bed open in order to welcome someone else. It was a very refreshing idea to me.
That's where I think, people aren't trained to look at "What is the consequence of this set-up or arrangement?" and really to imagine all the way through, "If the future that I want was going to happen, what consequences might there be?" So in the sense that the side of the bed up against the wall, "Well, if there IS a second person there…", let's imagine the situation. How are they going to get into the bed?
What's going to happen if they need to get up and go to the bathroom? If they wear contact lenses or glasses, where are they going to put their glasses if there's no end or side table? And so really thinking about all of these things, it's not something we're trained in our educational system to do.
This process I've learned through a number of my trainings and addition to the fact that the feng shui principles speak to this, that's where I see there's a logic to this. That's where a lot of people say, "That's not feng shui, that's just common sense", and I think that good feng shui IS common sense. As everybody says in North America, "Common sense is not common" as most people don't really have common sense. And we're seeing a lot of, you know, certainly in political views in the world now, we're seeing a lot of stuff that it is really not common sense. You know, people are complaining that, you know, they don't want to get shot walking on the street, but they also want to have their guns. But you know, you cannot have contradictory desires and have peace.
So for example, you maybe really like the blue color of your room, but if you're depressed or if you feel sad or if you feel lonely, you can't have both an uplifting mood and a depressing color. You just can't have both, so you have to make a choice. Which one is more important? It's very interesting that on the topic of the color blue, I find people were argumentative or insistent and they're not going change the color, "I really need to have this color, I really like this color!" But they don't like the results that I explain that the color brings. But they insist on the color, that the color is more important and this is where people and the human condition and human mind can be really fascinating.
That we would rather hold onto something that's killing us... I would rather drink Coca Cola, even though I have diabetes, than give up the taste that I enjoy for some reason. And usually there's something behind that. When it comes to the color blue, what's usually behind it is the fact that there is an emotional state that hasn't been resolved, that they haven't been able to catch clearly or to articulate or to understand or to find a solution to that is in their lives. And that color blue really represents that emotional state that needs to be expressed. And so they need to be surrounded by that for some reason, in their mind, they believe they need to be surrounded by that in order to have some sense of relationship with that emotional state.
As so same thing comes, you know maybe "I don't like the color pink" or "I don't like warm colors". I actually know somebody in Canada, and she loves color blue. She doesn't like the color red. But she also complains that she doesn't have customers finding her, and she doesn't have good opportunities coming her way, and she doesn't have motivation.
It's really interesting that the color red brings attention and brings recognition, and it brings motivation. So she complains about the results of what it is that she likes by going overboard with what she likes, rather than having some balance. So it's not my life, it's their choice to continue doing what they want, but you know, people often stick to, or continue to, hold on to a want or a desire that's contradictory to the results that they want. And It's always their choice... unfortunately, if they don't resolve it, they won't like the results.
Q:At the last workshop, we had two attendants whose sons have been suffering from social withdrawal and they were living in a room covered with blue, like with blue curtains and blue bed covers and so on. Also we met someone a few years ago whose husband was depressed and he was living in a house covered with blue.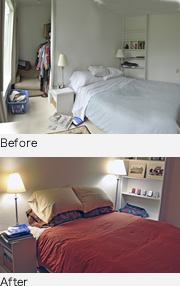 You know, we as a culture, as a global culture, in most places in the world, we don't recognize that there's a psychological impact, a physiological and psychological impact to certain colors, to certain images and so on and so forth. As I spoke about in my workshops, you know that advertisers are very well aware that if you use a certain color, you use a certain symbol, you use a certain sound, then it creates a positive reaction and that the people will see it and that can actually generate sales for a company from whoever is watching those commercials.
The same thing goes for a color - you know we just think "Oh well, blue is for boys and pink for girls", and it's completely ridiculous to make choices based on this for several reasons, one of them being why do we limit any gender to a certain form of expression of, like this color means this and this color is for this gender? That as opposed to personal preferences? And then you know everybody knows that blue is a calming color, what's often said and then it's true, but you know it could be so calming that you get so relaxed and so then eventually deep that you actually can't get moving and you can't have your energy to really be motivated and have a spark.
We say as spark, and the word spark actually speaks to something that comes from fire. Fire is exactly the opposite of a water. So again, you know there's a sort of depth of power to the feng shui philosophy that translates also into language. It's very interesting.
So, yeah, if I could educate people, there are several things I'd like to educate them about, but even some… like one thing that I wish that the greater public would get is that you know really the color of your bedding and the color of your room is going to have such a profound impact on how it is that you feel and to really know the facts before you buy things. Here, I think people suffer unnecessarily. Like I spoke to a lady who was in one of my workshops who had been hospitalized for depression for 3 months and she had blue walls, blue sheets and blue curtains. If this information were very clearly available to everybody, they could make another choice.
Why did this woman spend 3 months in a hospital? Because of a design choice. There was an unconscious choice and maybe you know, we can say existentially for some reason, she spiritually needed to go through this experience. But there are always ways of less suffering how people can get to where they are "meant to go" spiritually. This goes into one of the big lies in the spiritual world and the new age world - "It was meant to happen". You know, like "It had to happen this way", or "This happened for a reason". Everything happens for a reason, but there can be another way for something to happen that's more enjoyable.
I really hope that people will reexamine the whole concept of color for bedrooms and bedsheets, and just immediately like… I think that the entire planet needs to… we could create a lot more energy and heat in the world other than through electricity by burning all of the blue sheets that exist. That's a better option because they are not helping anyone right now!
▲ by legacyofcayce | 2013-07-25 18:27 | Interview