From
Interview No.2
Q: How can we help people to understand these concepts?
Well, sometimes telling people a story. They can understand that way. I think that films and movies and different things like that can get people to understand things.
When you talk one on one they don't really understand, but it gets into the unconscious mind and they begin to understand. And when they see how you live, the very example of what you do and how you live, that makes a difference. And they see you as a person who is functioning well in this world, then they want to know and they begin to ask.
Also it depends on the person and how they are asking, but you kind of have to listen to what they are asking. Because a lot of times people will really want to know "this question" but they ask "that question".
So you have to really listen to what they are asking and try to answer just as best as you can. You need to be totally honest with them and what you know. And share with them the best you know, because sometimes what you are saying and what they understand are two different things. Because it's interpreted "Up here". Because you care about what they understand and they are looking for something, and you may not get it across.
Your words say this, but the spirit of the words come together at another level and they understand what it is you are trying to say. Maybe not in the same words, maybe not even in the same concept, but they get what they need…
For example, people would say to me "When you said such and such it meant all the world to me", and I know that I didn't say "such and such". I know that I said something else, but what they got was "such and such". When we put it out there in a feeling of love and caring for the person that we are talking to, what comes is what they need. And they interpret what you are putting out there in a way they can use… And it may not even be anything you even thought would be useful.
When you come to a person who is asking and looking for something with a feeling of love and caring, you'll know what to say. Because you have studied it and it has become part of your life and you've known these things, so you'll know what to say. Whereas if you try to read it out of a book and then tell them out of a book, that doesn't mean anything to them. If it comes from your heart that means something.
Q: How much time do you spend with each patient to be understood?
It depends. One time I had this patient and it took 30 years. It doesn't happen all at one time. She just kept coming back and coming back. It just takes time and time again. And other times, they just get it.
Q: A very serious nuclear accident happened in Japan on March 11th, 2011. Could you give us some advice on dealing with radiation effects?
I don't know, it's such a bad situation… You do the best you can and try not to live in fear. Because fear just makes it worse… so do the best you can with what you've got and pray for your government to open up. Because governments can get so difficult, and actually, the trouble between nations is the trouble between the governments and not between the people. But with this situation, there are a lot of people around the world praying for you. I know we are. So, that helps.
There are forces that can be used to dissipate it and transform and change it. And mother nature herself, as long as we don't keep doing it, will ultimately take care of it. But do the things that you know are safe and work with the things that you know are safe. Just bless what you do get, like I was saying earlier, taking something in and saying "It will be bad for me", then the body knows that. So bless it and let the body know what it can do for it.
Q: I've been feeling Japan is creating more karma for the world by spreading radiation into the water. But as an individual, I don't know how I can help… Do you think we can pray to inspire our government?
Yeah, and ourselves. We do the best that we can so that we as individuals become points of light. You know that we bring light into the world and not darkness. If we get afraid then we buy into the darkness, but if we stand up and be points of light then that helps. It helps nature to do what it can do.
Q: At the same time, we can live normal everyday lives in Tokyo as long as we don't watch bad news. However, many people are still suffering from radiation effects or tsunami in Fukushima and the Tohoku area. So I can't help feeling guilty for having an easy life.
Send them love. Send them love and blessings, because that reaches them in ways we can't. You know that you're not there to help them, but you wouldn't be of any help anyway… but at levels where we meet at, a spiritual level, that's where the real healing will come from in a situation like that. So when you think about them, think about them with love and send love to them. So at least the Universe is supporting them.
I think your job is to put more energy on the good parts. Cayce said to "magnify the virtue, minimize the faults". So when you get the fears, just put them on a shelf. You can't get rid of a fear because it's there and it's all around you and you are immersed in it. But if you focus on that, then that becomes bigger because you feed it. If you focus on what is on the brighter side, on the hope that is there, then that becomes bigger.
Q: I can't help feeling guilty for looking at the bright side when there're so many people suffering.
Oh yeah, 3 o'clock in the morning is when it gets you. In the middle the night, it gets you, you know, and then you wake up in the morning feeling … ugh!
It takes a conscious working on putting your energy and not condemning yourself, because it's natural. So it's not being a bad person. It's natural that you do that. But then, it's like the food that you feed your body… What you feed your emotions is what it grows on. So if you are feeding your emotions fear, it'll grow on that and if you are feeding your emotions hope it grows on that.
Q: Having to be born in Japan and experiencing Tsunamis and earthquakes, makes me feel that I have some purpose. Yet I am not of any use and I can't help feeling shameful.
Let me tell you a story. My older brother Carl - he was a doctor. And he started the department of international health at Johns Hopkins University. One time, some friends of his who were from Bhutan asked him to come over and look at their health conditions, because they were having a lot of problems and stuff. And so he went and stayed with them for a month and he saw that every day, every household had either a priest or a monk come in and spend some time with them. It's all they did, they just came around to each house and spent some time with them and went on.
And my brother thought that if they knew something about hygiene, if they knew something about nutrition, if they knew something about these simple things, then they could teach the people that and that would help. So he told his friend and doctors what he was thinking, and his friend said, "Oh that's a great idea, we will talk to the Great High Lama."
So they set up an appointment and my brother Carl said that they went higher and higher up the mountain until they came to this house. When they came in the door they had to get down on their faces and move forward, and at the end of the hall there was a man sitting on a "Dias". Carl said you couldn't tell if he was dead or alive—he was just sitting there.


And for the longest time they were down on their faces, and then he said all of a sudden… he came back and he spoke to the people. He said to my brother Carl, "You have a question?" and Carl said, "Yes." And he told him this idea of having the priest and the monk know something about nutrition and so on. And the Lama said, "It's a great idea. I'll take it to meditation." And then he was gone again for the longest time. I don't know where my brother was in the high Himalayas.

They waited and waited and finally, he was back. He said, "It's a great idea, but the time is wrong." He said "right now" in 1972, before John F. Kennedy, before Martin Luther King, before all of that. He said, "Right now, the forces of evil are gathering and if I opened up one place to where the monks and the priests are doing their work, which is spiritual work, and I change that to physical work or mental work, I would open up a hole in the universe, which would allow these forces and evils to come in." He said, "The time will come when we can do that, but right now the time is wrong."

So everything that you do in the way of prayer and healing has an effect just like those monks… everyone of them. What the Lama was saying was if I took one of those monks away from what his job was, which was basically to pray for the people, then that would open us up to the universe.

And to me that's the one of the most important lessons because each one of us has our own special job right where we are. And it's much greater than anything that we can imagine. What you are doing in Japan, praying for people, sending them love and concerns and so on is keeping those forces of evil back, you know. It's holding them off basically until the time is right for the other things to happen.

But right now, it's a critical time, you are in a critical place… a specific place, which happens to be Tokyo. This is so that you can hold a point of light and be that person who holds us together. Because you know, if you have a sweater and you have a hole in one place then the whole thing unravels. On the other hand, if you keep that tied together it can't unravel, so our job as individuals is to do what we can do where we are, be who we are, and let the universe keep itself together like this.

And it's huge, it's a huge job that you have there. You feel like you are doing nothing, but remember those monks, those individual monks doing what they can do. 15 years later they were able to do as Carl suggested, but at that point it was not the time to open up. And the right time will come and you will see what will happen, like the doctor that said to a patient of mine, "What is she doing right now?". It took him 30 years…

Q: Perhaps I don't completely believe in the power of individuals… Right now in Japan, there are conflicts between the people and the government, even within the political parties or among activists who are working to stop nuclear power plants. I feel like I am being exposed to those energies of conflicts when I am in Tokyo.

…We have that here too. It is all over the world. People are frightened and they don't know what's happening.
I'd like to tell you about my aunt. When I was 15, she said this to me. She said, "When the Lord… God is working like this, the devil is working like that, but always remember the Lord is a little bit ahead." So… it's that kind of a hope. It looks so horrible, but the good is still there.

And another thing to remember is that a little bit of light gets rid of darkness. Darkness cannot get rid of light. Light gets rid of darkness. You go into the darkest place and light a match and it lights the whole place up. Like right now… darkness cannot get rid of light… light can get rid of darkness and even the slightest bit of light. So we have to trust that.

Q: I'm hoping to grow spiritually but under these circumstances I find it very hard. And I don't know if I'm doing good enough to be that light.

The problem with guilt is that there is seldom one person guilty, we are all guilty. I'm as guilty as you are. We are all guilty of not maintaining the highest state, because we are human and we have all kinds of karmic stuff that we have brought on and all of that.

So… Oh! I just remembered a story. I was talking to a Pakistani man who was talking to me about Ayurvedic Medicine. He said that they believe that when we come into life, we don't come in as clean souls. We come in with a huge karmic load and our life time is for getting rid of that karma. This was a completely different thought for me.

So, with that in mind, we are guilty. We have this guilt that we carry. We either move through it and get rid of it and let it move back or we build on to it. To me that was a complete new thought. I don't know if I totally agree with it, but it's a new way of thinking about things, so the guilt is there…

I can take on that guilt too, because it's part of the way we all humans have created this world. We let things happen. Or continue to build on that guilt and say I'm sorry for what's happened. But not build on it and let that go and move on, and move on, and move on… And leave the guilt behind. It's like your shadow. You know as you move forward your shadow is behind you. It's passed, it's done. You can't change that, but you can change where you're going.

Q: Thank you so much. I feel that your words touched me deeply so that I can move on now. Lastly, could you tell us what we can do for people who were the victims of 3.11?

First, you just need to hold their hands… you just need to be there for them. It's like when somebody dies in your family. Words don't say anything… You can take some food over or something, but basically you need to be there for them and let them know that you care about them. There is not much else you can do, because what's happened has happened. And the earth has been scarred and it's there… But it isn't any one person or one group of people, it's happened in Japan.

It has happened in Chernobyl, and we are doing terrible things in our country, just awful things. And we are all in this together. We are all brothers and sisters in this… nobody's ahead of the other people in guilt or anything else… it's a global problem that we are working with.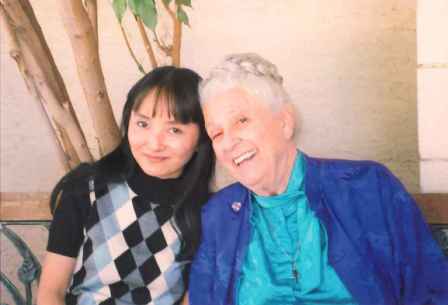 Naoko, you are doing a great job!! You may not know what you are doing and it doesn't seem like it, but you are doing a great job.

▲ by legacyofcayce | 2013-11-18 16:44 | Interview